When it comes to generating income, most people think of bonds and little else, but they're not the only option. A range of income-generating assets may offer more yield and time-tested benefits of diversification.
Financial advisors use income-generating investments for clients who are near or in retirement. Such investments represent a source of reliable income that retirees can count on. But reliable income isn't
the only attractive feature of this strategy. Studies have shown that income can be an important driver of total returns for most asset classes — not just bonds. While bonds are a traditional source of income, they can be risky and overvalued at times, underscoring the potential benefit of a multi-asset approach that includes stocks.
Income drives investment returns
It may come as a surprise to some, but income is a significant component of equity returns. In the short term, equity market returns are driven by movement in stock prices, but going back to the 1930s shows that over longer periods of time, dividends — the income-generating component of equities — can provide even greater returns than stock price appreciation. In fact, dividend income accounted for over 40% of the returns from equity since 1930. More recently, stock appreciation has been strong and dividends have played a less important role in total return. From 2010–2019, dividends contributed just over 15% of total return, because it was a bull market and stock prices were increasing. As we return to more normal expectations for equity growth, dividends may again make up a larger portion of investors' total return.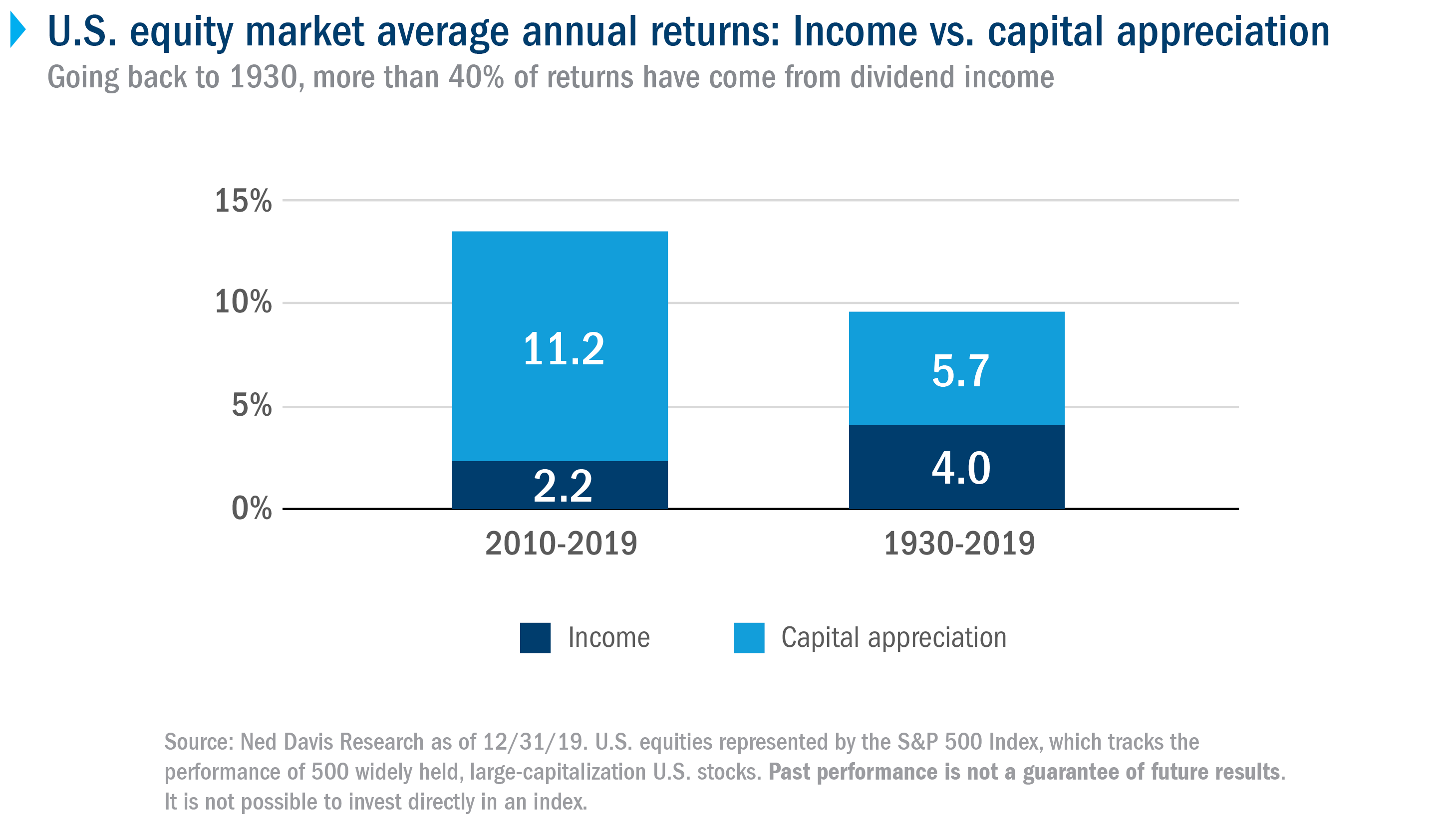 Melda Mergen, Deputy Global Head of Equities, often discusses how finding income in equity markets doesn't mean you need to focus solely on the sectors that tend to deliver higher dividends, such as consumer staples or utilities. Income is an important component of equity returns across the entire stock market.
For fixed income, over a period as short as five years, well over 90% of the returns come from the coupon, which is the income component of bonds.1 Since this will primarily determine returns, the focus within fixed income tends to be on finding sectors that provide the best value.
Diversify your income sources
Diversification is as important for an income-generating strategy as it is for any other investment goal. A well-diversified multi-asset portfolio may generate more income for the risk taken compared with stocks or bonds alone. It's the result of thoughtfully combining asset classes with low correlation to each other. As many of us know, too much exposure to one part of the market can be dangerous.
Advisors often gravitate toward parts of the financial market that have an attractive yield component, even though these areas can contain significant underlying volatility. This is true within the fixed-income portion of a multi-asset income portfolio. As Colin Lundgren, Global Head of Fixed Income, says, "I worry that investors stretch for yield at the wrong time. They're taking a risk in some of the lowest quality rungs of the corporate bond market or investing in emerging market countries they can't point to on a map."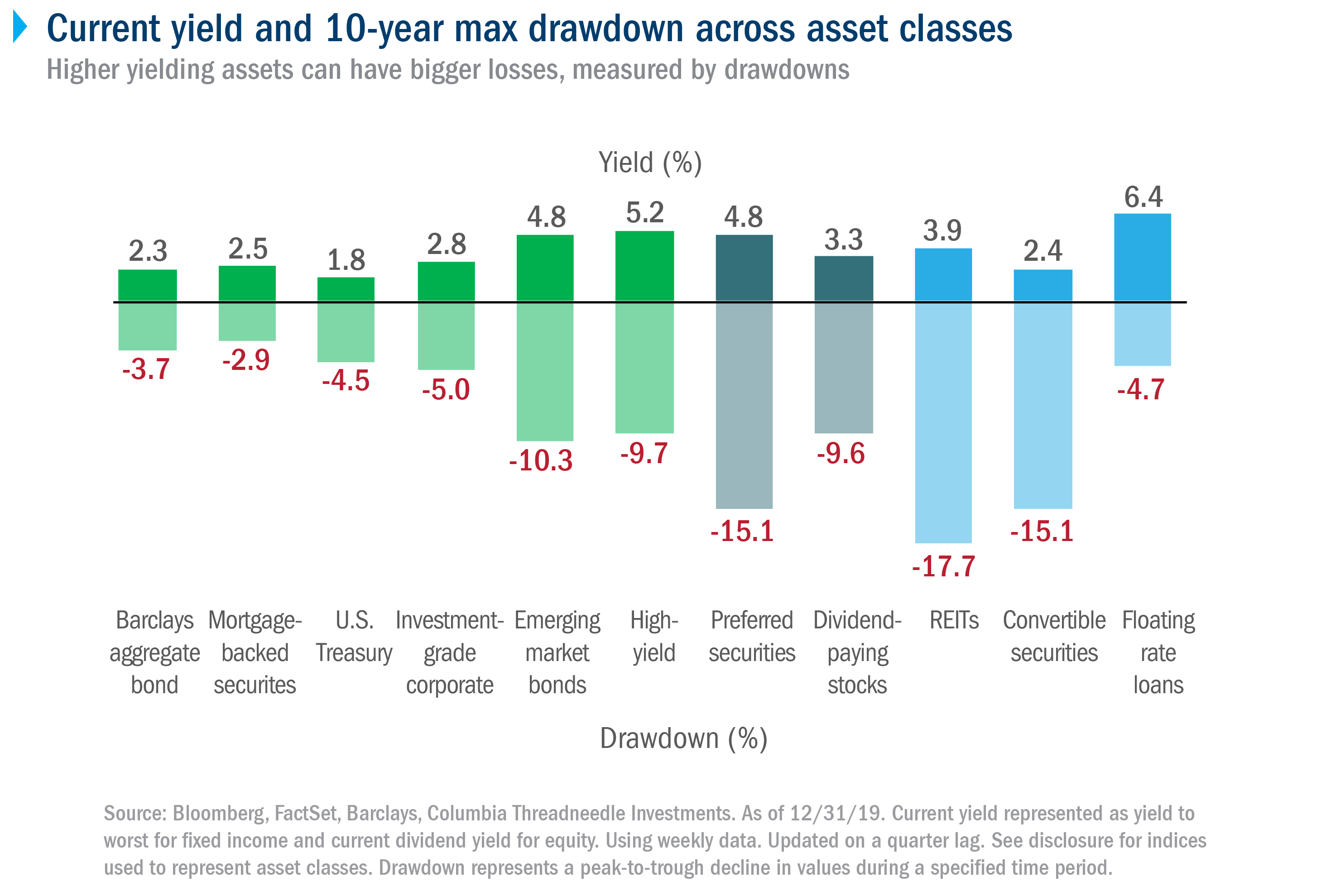 It's critical to recognize the potential for volatility when it comes to a portfolio focused on single asset classes. A portfolio based around a multi-asset framework can achieve higher income and lower its overall volatility by holding bonds, equities and less traditional asset classes.
Tactical portfolio management
There are other, less conventional ways of eking out more income. One strategy is to invest in preferred and convertible securities, which over the long term may improve the performance of portfolios while potentially reducing the level of overall risk. Indeed, a well-structured multi-asset portfolio can access income from across the entire capital structure of a company's balance sheet.
Active management of an income portfolio is critical. Our preference is to be thoughtfully tactical so you're able to capitalize on compelling opportunities as and when they arise — for example, underweighting bonds when they appear overvalued and overweighting other assets in higher yielding parts of the market when they've reached a desired value.
A multi-asset approach that's tactically managed may give your clients access to a more secure, less volatile income stream.

Download this article as a PDF
1 Columbia Threadneedle Investments