Changes to the Paycheck Protection Program can benefit your small-business clients
[ "Blog: Latest Insights" ]
[ "Politics & Policy" ]
Small businesses have a new reason to take another look at the Paycheck Protection Program (PPP) now that greater flexibility for loan forgiveness has been signed into law. For business owners who haven't applied yet, there's still loan money available.
When Congress created the PPP as part of the CARES Act, businesses flocked to it. The program was designed to help small-business owners (500 or fewer employees) keep their workers employed and/or bring back those who were furloughed. But business organizations and owners pointed to flaws in the loan forgiveness criteria, which were set when there was optimism for a short period of social distancing and a quick return to business as usual.
Now there's good news for small businesses: Congress has made loan forgiveness — the program's most compelling feature — more attainable through the Paycheck Protection Program Flexibility Act of 2020.
The new law changes the criteria for loan forgiveness by:
Increasing the percentage of qualified expenses other than payroll from 25% to 40%
Extending the time period borrowers can use to calculate forgivable expenditures from 8 weeks to 24 weeks or until the end of the year (business owners who have already received a loan may elect to keep the 8-week period)
Enhancing the safe harbor exemptions related to employee reductions
Other changes can help business borrowers conserve cash if they receive a PPP loan by:
Extending the deferral of loan repayments
Removing the restriction on borrowers for the deferral of payroll taxes
As of late June, the Small Business Administration (SBA) reported approximately $130 billion in available PPP funds, meaning ongoing support for small businesses is still available. New applicants will have five years rather than two to repay the loan. The application deadline, originally June 30, has been extended to August 8. Business owners interested in applying must act quickly.
Bottom line: Take another look at the PPP
Business owners and their financial and tax advisors should take another look at PPP loans. It's now a more flexible and implementable tool supporting businesses during this extremely difficult economic environment.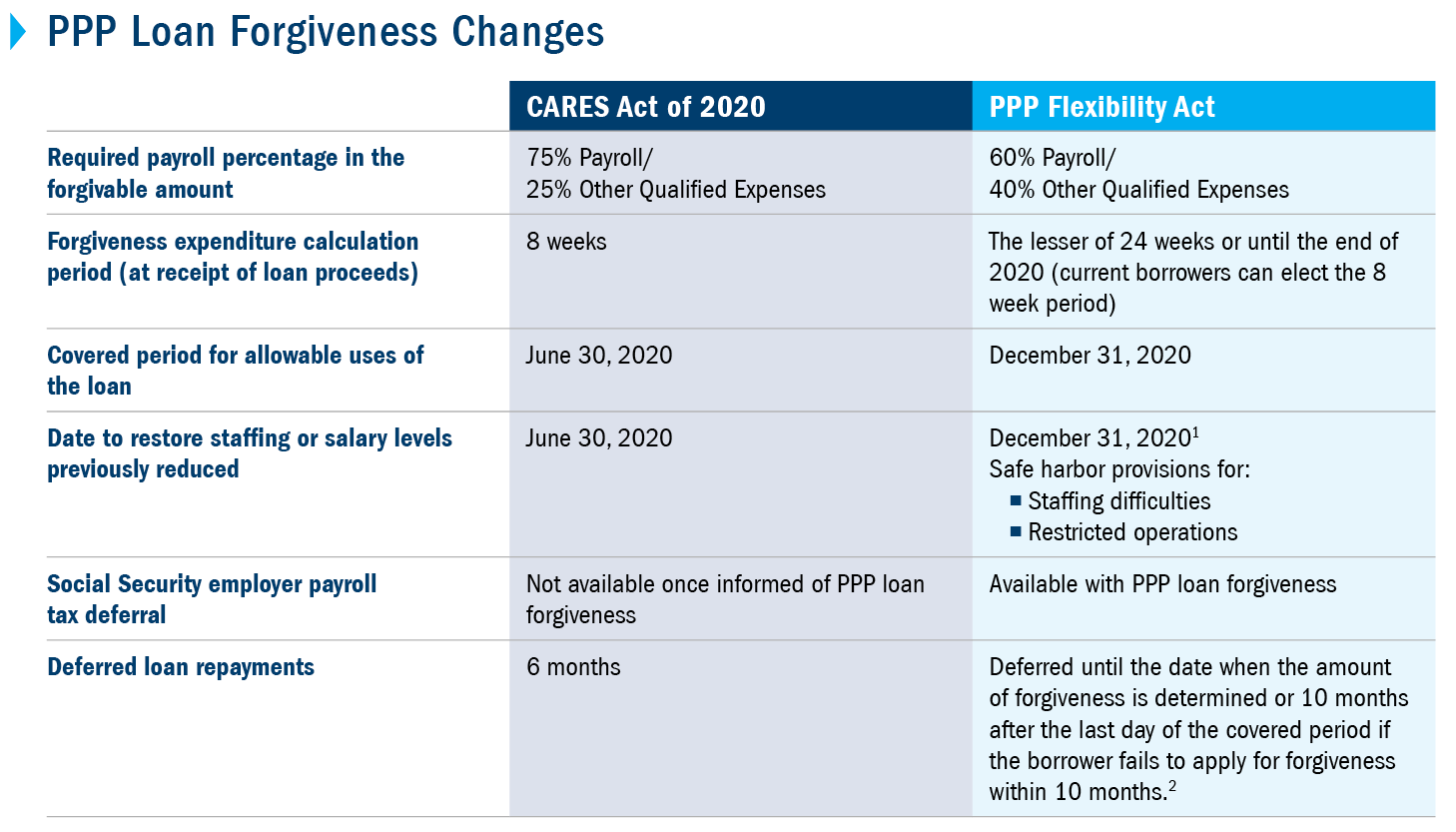 1 Applies to worker and wage reductions made from February 15 to April 26, 2020.
2 congress.gov/bill/116th-congress/house-bill/7010/text