A five-year returns forecast for major asset classes — updated twice a year to help you set strategic portfolio allocations.
Although riskier segments of credit markets and equities saw sharp declines in 2022, returns are likely to improve over the medium term, driven by valuations. Return expectations for Treasuries have risen, and we expect they will once again serve as an effective hedge to equities. Higher yields and spread compression over the medium term adds to credit returns.
Rates have risen over 4% and are likely to peak at around 5% by the middle of the next year. This has improved cash returns over the next five years substantially.
It is worth highlighting that while nominal return expectations have gone up, real return expectations are lower because inflation has risen but should moderate over the next five years.
Forecasted five-year total average returns (%)*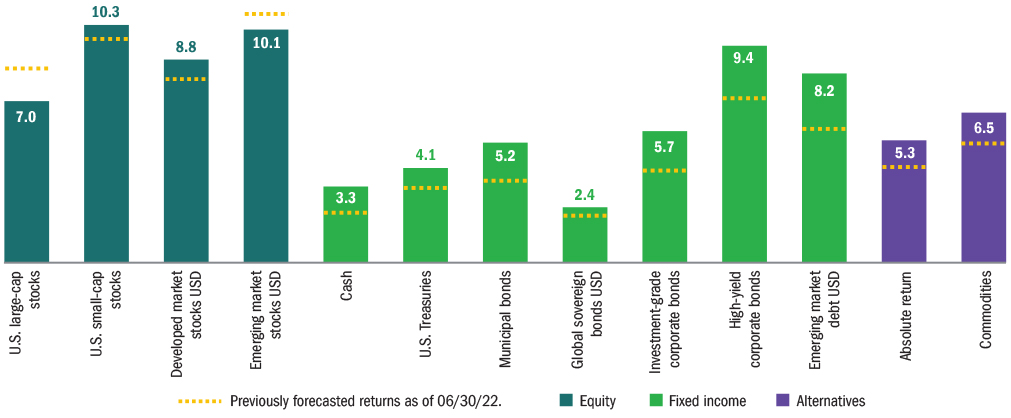 Source: Columbia Threadneedle Investments as of 12/31/22. Past performance does not guarantee future results. Variation versus previously forecasted return is skewed by pandemic driven volatility prevalent at the time of the last forecast.
Strategic outlook: We see equal odds (40/40) of either a recession or a weak period of economic growth also characterized as a "soft-landing." We assign a smaller probability (20%) to better than consensus growth, which delays recession and implies rates higher for longer.
Inflation appears to have peaked but remains high, driving consumer sentiment to record lows. The Fed has stepped down from aggressive 75bps hikes at each meeting to 50bps in December, but more hikes are expected in the first half of 2023. The labor market remains strong defying recession talk.
U.S. based companies are expected to see solid earnings growth in 2022 but multiples have contracted sharply as rates have risen and expectations for earnings in 2023 have fallen.
We expect a volatile period ahead for asset returns, in the near term, as the market continues to digest the impact of monetary tightening.