A five-year returns forecast for major asset classes — updated twice a year to help you set strategic portfolio allocations.
Our forecast for interest rates has increased since the beginning of the year. We now expect rates to rise to around 3% by the end of 2022, which would improve cash returns over the next five years. Return expectations for Treasuries have risen, and we expect they will once again serve as an effective hedge to equities.
Although riskier segments of credit markets and equities saw sharp declines in the first half of 2022, returns are likely to improve over the medium term, driven by valuations. Nominal earnings are largely unchanged as lower growth is supplanted with higher prices. Higher yields and spread compression over the medium term adds to credit returns.
It is worth highlighting that while nominal return expectations have gone up, real return expectations are lower compared to six months ago because inflation has risen.
Forecasted five-year total average returns (%)*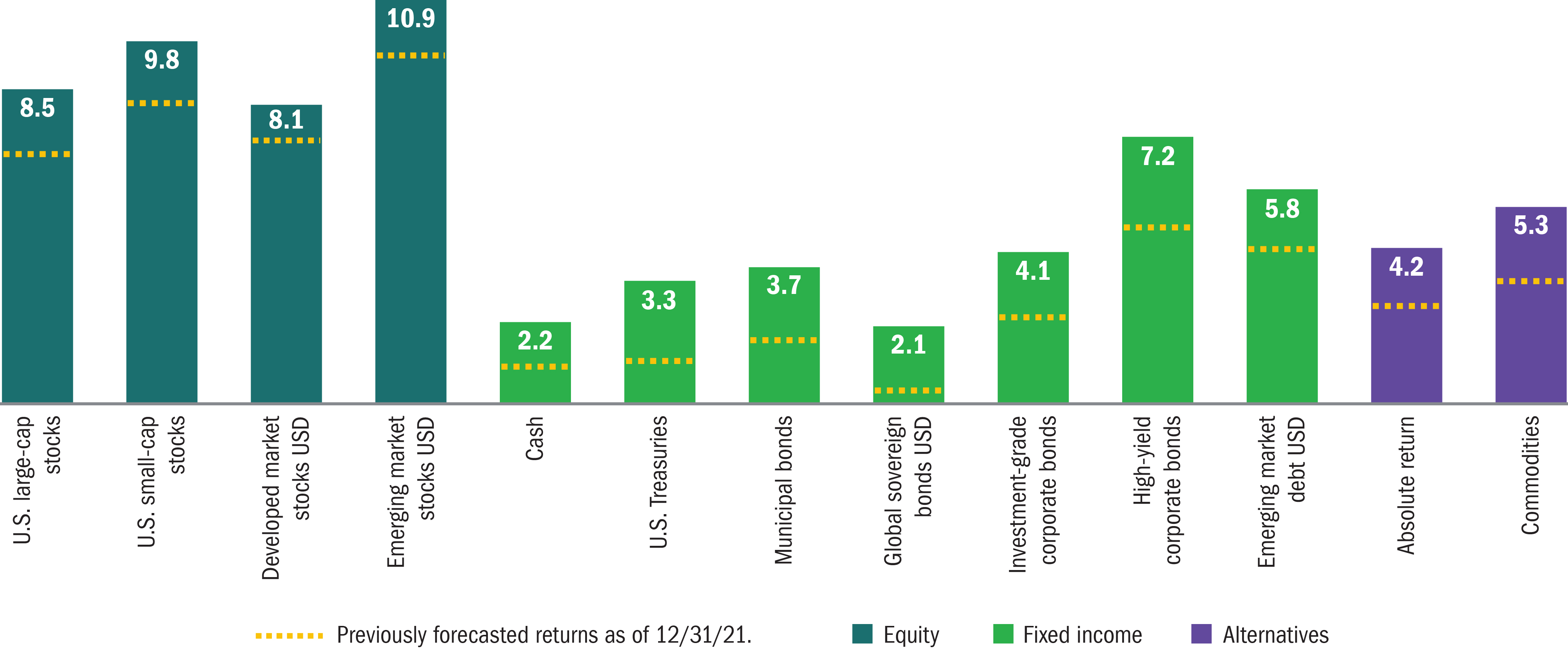 Source: Columbia Threadneedle Investments and BMO GAM (EMEA) as of 06/30/22. Past performance does not guarantee future results. Variation versus previously forecasted return is skewed by pandemic-driven volatility prevalent at the time of the last forecast.
Strategic outlook: We see equal odds (50/50) of a either a recession or simply a slowdown to trend growth in the U.S. over the medium term.
Inflation has remained uncomfortably high, driving consumer sentiment to record lows. Consumer spending fell sharply in the second quarter but not to recessionary levels. Nominal spending is strong, but after adjusting for inflation, real spending has weakened considerably. This has brought down growth expectations.
Housing is slowing too, but we aren't seeing excess supply.
Goods spending is rebalancing into services which is healthy — it's a substitution of spending, not an absolute imbalance.
The Fed is laser focused on bringing down inflation from 8% to their mandate of 2%. This will require aggressive action, perhaps to the detriment of the labor market which has remained strong so far.