A five-year returns forecast for major asset classes — updated twice a year to help you set strategic portfolio allocations.
Since the last update at the start of the year, our expectations for global growth and inflation
have been refreshed.
Given the changes in market prices, we now see most equity market valuations near fair value,
except for U.S. small-cap equities which are screening cheap compared with long-term averages.
Expected returns for cash saw one of the largest jumps in forecasted returns since our January update
due to rising short-term yields (note that yield accounts for the majority of the mid/long-term
returns in fixed-income markets).
We expect most central banks to be at or nearing the end of their hiking cycles, signaling a peak
in rates and a possible ceiling in total returns investors can expect from duration-based assets.
Forecasted five-year total average returns (%)*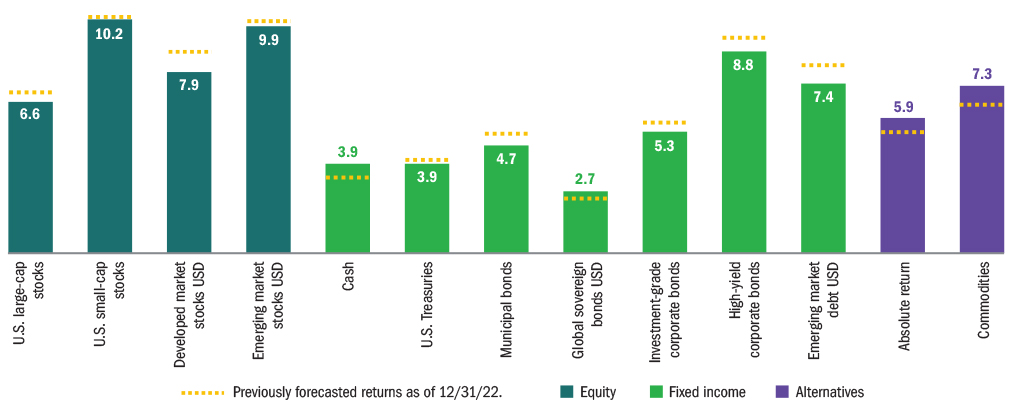 Source: Columbia Threadneedle Investments as of 06/15/23. Past performance does not guarantee future results.
Strategic outlook: We started the year with equal probabilities for a recession or a soft landing, and a small chance (20% probability) given to beating consensus growth estimates. For this update, we've streamlined our forecast approach to use a baseline scenario that incorporates our most probable growth and inflation expectations.
We've slightly upgraded our view for the path of real GDP growth but have also slightly reduced our expectations for inflation, resulting in a nearly unchanged view of U.S. nominal growth for the next five years.
We are expecting U.S. and developed market economies to rebound in the next 1–2 years and return approximately to a long-term 2% annual growth rate.
We see inflation subsiding globally, with the U.S. leading the drop in the next 1–2 years, developed markets expected to follow next and emerging markets seeing the slowest decline.