Navigate Rates
Investment risks, such as changing interest rates, may present opportunities for fixed-income solutions. Consider a non-traditional approach for navigating interest rates with Columbia Threadneedle Investments.
Predicting how and when interest rates will change can frustrate investors and leave advisors uncertain on a strategy. Instead of viewing fluctuations as an obstacle to your clients' goals, consider them an opportunity. We've created a non-traditional strategy to endure changing rates and thrive in all markets — helping you navigate today's fluctuating market and guide your clients toward success.
Four major risk factors
Duration, credit, inflation and currency risk are all drivers of fixed-income performance, and they affect investments differently. We believe that a multi-sector approach that capitalizes on all four risk factors may lead to better or more diversified outcomes across market cycles. In each case below, one of the four risk factors dominates the overall risk profile, which subjects investors to a narrow range of potential outcomes.
For a closer look at when these risks are most and least attractive, read our white paper, Harnessing Fixed-Income Returns Through the Cycle.
How different risks drive performance of common bond indices
Source: BlackRock Solutions, 12/31/15
Duration risk
A traditional fixed-income portfolio, which typically invests in high-quality, government-related bonds, can leave investors vulnerable to the performance of one single risk factor — duration. Also known as interest rate risk, duration represents the price volatility of a long-term investment in a changing interest rate environment. The longer you hold an investment, the more impact interest rate changes will likely have on returns.

Exhibit 1*
Performance of credit versus growth and valuation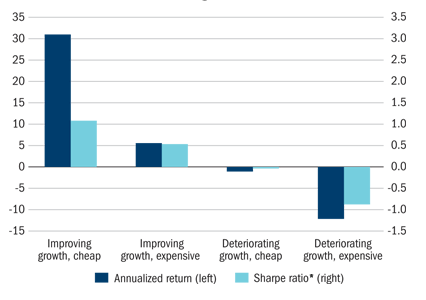 Credit risk
The chance of a borrower defaulting on a debt is known as credit risk. It's highly cyclical, and the best returns tend to occur in periods just after episodes of underperformance — when investor sentiment begins to shift. Future returns tend to be significantly higher when bonds are cheaper, as seen in Exhibit 1.

Exhibit 2*
Performance of inflation versus inflation expectations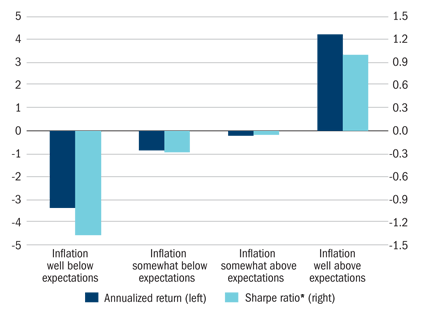 Inflation risk
Inflation risk, or purchasing power risk, is the chance that the rate of inflation will exceed the rate of return on your investment. This risk is driven by both actual and expected future rate of inflation. It performs best when the economy is overheating and prices and wages are rising.1 The more inflation exceeds expectations, the better inflation risk performs.

Exhibit 3*
Performance of currency versus global yield changes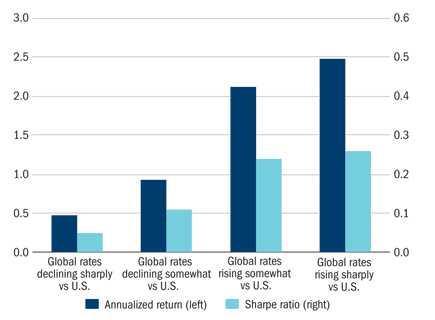 Currency risk
Currency risk is the risk of loss when an investor has exposure to foreign-currency-traded investments —which is common for investments in global bond markets. It's important to be aware of the trend in global bond yields relative to the U.S. when incorporating currency risk into your bond portfolio. Foreign currency returns rise as foreign yields become more attractive, as shown in Exhibit 3.
Solutions for Navigating Interest Rates
Columbia Strategic Income Fund
Morningstar Category: Nontraditional Bond
Strategy
This fund aims to deliver a competitive level of income and adapts to market fluctuations by accessing returns associated with global bond market risks: inflation, interest rate changes, credit risk and currency fluctuations.
Benefits
Seeks to provide attractive income in all environments
Leverages global research capabilities to uncover attractive investment opportunities
Designed with a flexible mandate focused on capturing returns through all economic cycles
Rated #1 nontraditional bond fund by U.S. News & World Report**, Columbia Strategic Income Fund is built to provide greater income potential in all phases of an economic cycle — from highs to lows — by leveraging all four global bond market risk factors.2