Vaccines and returning to a more familiar world
[ "Blog: Latest Insights" ]
[ "Global Perspectives 2021", "Macroeconomics", "Manage Volatility" ]
2021 economic outlook: Build longer term forecasts around successful vaccine distribution and expect stronger economic growth in the second half of 2021.
Focus on long-term goals. An effective vaccine outweighs shorter term hurdles. In other words, the destination is more important than the path we're on right now. For the next several months, there will most likely be new lockdowns and uncertainty around ongoing fiscal support for the economy. Growth projections, employment expectations and consumer data may all experience short-term volatility. Build long-term forecasts around the implementation and distribution of a successful vaccine.
Look out for economic scars caused by the pandemic. Many women have left the workforce. Income-related disparities may continue to grow. The Fed's key focus is understanding how the labor force is changing — and investors should make it a focus as well. Labor force participation directly affects economic growth and the policies the Fed will be put into place. It's important to understand the longer term impacts of COVID-19 and the acceleration of secular trends that were already in place.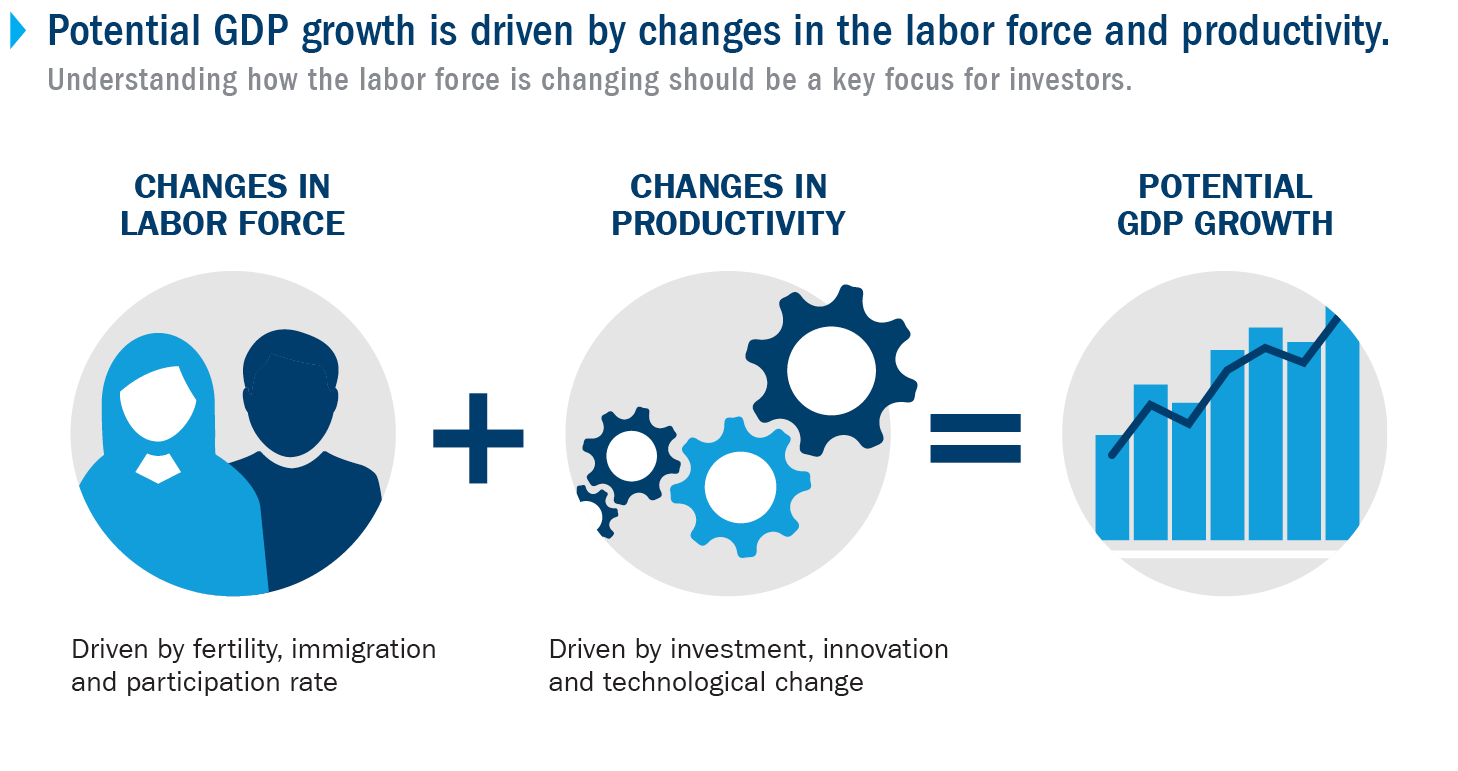 Expect 2021 U.S. GDP growth between 5% and 6%. And stronger activity in the second half of the year. These growth rates exceed the historical range of potential U.S. GDP growth, reflecting the recovery from the 2020 recession. Whether we end up on the low or high end of our estimate will depend on new lockdowns, a fiscal deal (we don't think of it as stimulus but a bridge to normal activity) and how quickly people can resume normal activities post-inoculation. There is a significant amount of pent-up demand among consumers, which has the potential to be a huge boost to the services part of the economy. Read the latest growth forecast.
Embrace bonds. For diversification. With yields this low, investors may question the value of bonds in multi-asset portfolios. Even at very low levels, high-quality bonds, particularly Treasuries can be an effective hedge against equity in a portfolio. They potentially limit drawdown, even in a low rate environment.

Download this article as a PDF