Even in an uncertain environment, munis show promise as a tax-efficient, stable asset class.
Tax season is in full swing. And with the deadline right around the corner, many people use this time to take a renewed look at tax planning, especially as it relates to their investment portfolios. Recent changes under the Tax Cuts and Jobs Act of 2017, particularly the $10,000 cap for state and local tax deductions (SALT), seems to have sparked additional interest in municipal bonds. For high-income investors, the appeal of municipal bond interest income is that it's exempt from federal tax. But tax efficiency is only one reason to consider municipal bonds, and in our view, there may be even more compelling reasons in the current market environment.
Drivers of municipal credit health can be unrelated to strength or weakness in the broader economy — a feature that makes them particularly attractive in later stages of an economic cycle — which typically leads to low or negative correlations with equities. This is relevant because we're in the midst of the second longest economic expansion in U.S. history, and though we're not forecasting an imminent recession, recent data indicates that growth has clearly moderated from its post-tax-cut highs. One argument for considering municipal bonds in today's environment is that munis have typically fared relatively well in periods of slowing growth or market uncertainty. In fact, they've generated positive returns in 31 of the last 35 years.1 In more recent history, the dramatic equity volatility in the fourth quarter of 2018 saw equities, as measured by the S&P 500, fall by 13.5% while the Bloomberg Barclays Municipal Index returned a positive 1.69%.2
Concerns over slowing global growth, the trade war with China, Brexit uncertainty, lackluster domestic economic data and a softened tone coming out of the Federal Reserve all support our view that rates are likely to remain contained this year. Given the prospect of a benign interest rate environment and the steepening muni curve in the latter half of 2018, this may present a good entry point for munis — and our 2019 total return forecast shows that municipals are poised to remain an attractive asset class for the coming year, especially after considering the tax benefits.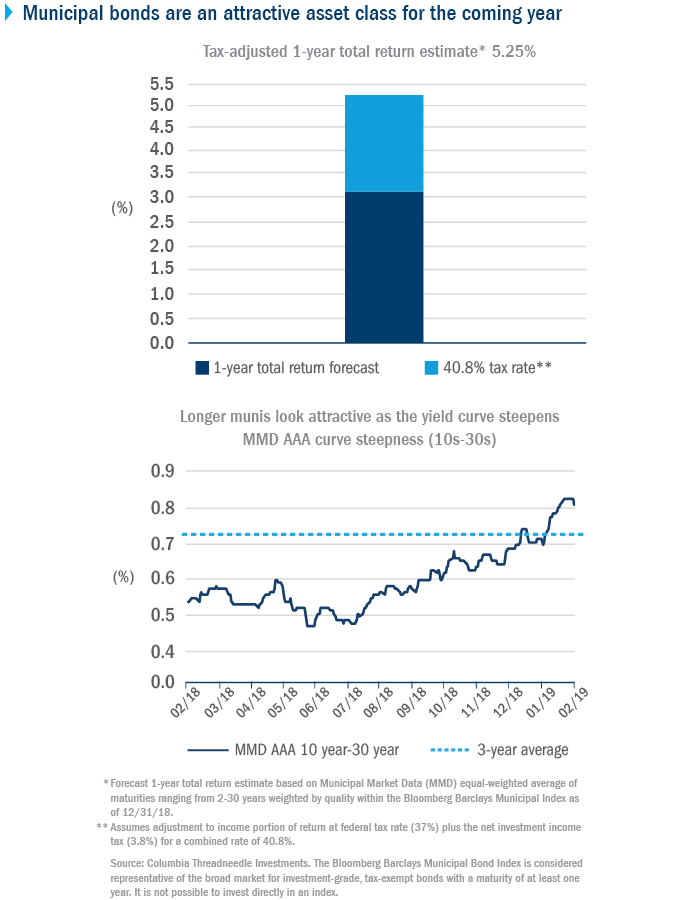 Bottom line
Our forward return expectations for the Bloomberg Barclays Municipal Index in a static interest-rate environment indicate that we could likely see a tax-adjusted 1-year total return of 5.25%. As more high-income investors begin to feel the sting of the SALT deduction cap, we believe that this tax season could provide a modest boost to demand for municipal bonds. Coupled with issuance expectations that show flat to slightly lower supply for 2019, a favorable supply/demand technical should support flattening of the municipal curve, providing potentially more upside. Uncertainty is likely to persist in the near term, but municipals may offer opportunities to own a tax-efficient, stable asset class with promising prospects ahead. Skilled active management that combines thorough credit analysis and expert navigation of a fragmented marketplace can help uncover those opportunities.