Growth of consumer spending has been a leading theme for investors in emerging markets — and it doesn't show signs of stopping.
We're witnessing a significant expansion in the global middle class. Over the next 15 years, it's estimated that the middle class will expand by more than two billion people —and they will come almost exclusively from the emerging world. The majority – almost 90% of the next billion entrants into the global middle class will be in Asia. Harnessing that consumer spending trend may be a big opportunity.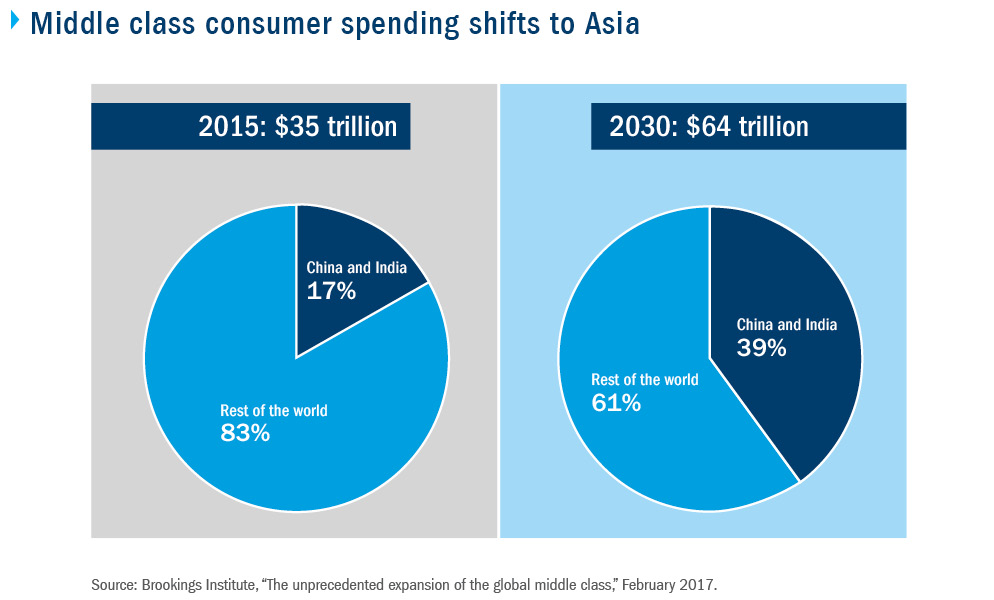 Global spending by the middle class is projected to grow from $35 trillion in 2015 to $64 trillion by 2030, and over 65% of this growth in demand comes from Asia, principally China and India. In 2015, China and India together comprised 17% of global middle class consumer spend, but by 2030, they're projected to make up 39%. And including the other Asia Pacific countries brings the projected share for emerging markets to about 57% of global middle class consumer spending.
Bottom line
There's potential for investment growth in companies that could benefit from this expanding consumer
base, and it will be a reoccurring theme for emerging markets investors.
Watch Ed Kerschner make the case for investing in the emerging markets consumer: