Expect cyclical rotation in equities
[ "Blog: Latest Insights" ]
[ "Equity", "Global Perspectives 2021" ]
2021 equity outlook: Volatility might remain elevated, but we see opportunities in a cyclical rotation and greater market breadth. Here are our key observations.
There is light at the end of the tunnel. We watched COVID-19 shut down the economy in March 2020 and saw U.S. equities collapse. It became clear that a medical solution was essential for a recovery, and the effective vaccine news means the worst market damage is behind us. There will be bumps along the way, but we expect a sustainable economic recovery in the second half of 2021.
Expect a cyclical rotation. Once economic activity reaccelerates, we expect the breadth of winners will expand to cyclical stocks — those most closely tied to economic recovery. Hardest hit areas, such as travel and entertainment, may begin to outperform relative to the rest of the market. But beyond just identifying sectors, it's important to find those companies with strong enough business models to gain market share.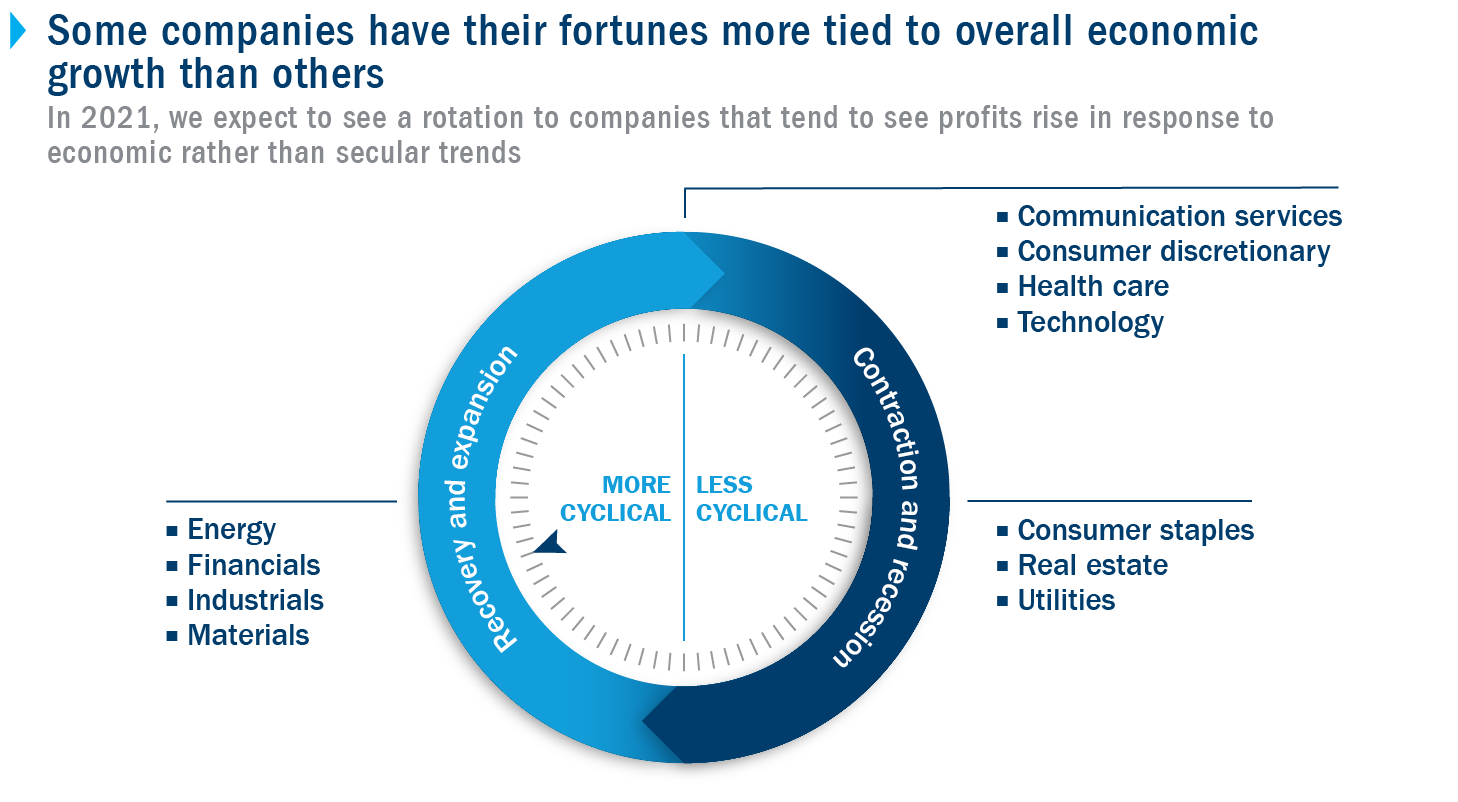 COVID-19 has not changed key long-term trends. The pandemic accelerated certain secular (long-term) trends, including digitalization, automation and e-commerce. Stocks benefiting from those trends outperformed in 2020, and we expect them to continue to outperform in the future. If a portfolio doesn't have exposure to these stocks, cyclical rotation in 2021 could provide the opportunity to buy them at a discount.
Make volatility your friend, not your enemy. We're expecting market volatility to stay elevated in 2021. When volatility is high, some investors may make emotional decisions to avoid loss (i.e., they don't stay invested). Given significant and very fast dislocations in prices, this can work against long-term goals. A better approach is to stay invested, ride out the volatility and perhaps add strategic positions when it makes sense.
Income will continue to play an important role in total return. Despite their relative underperformance in 2020, we believe dividend-paying stocks, especially those with high free-cash flows and a strong balance sheet, should be a part of equity portfolios. The income these stocks provide is particularly important for investors who are in or close to retirement, but it's generally a key component of total return. In fact, going back to 1930, dividends contributed more than 40% of the total return on the S&P 500 Index.* This means dividend-paying stocks can be particularly important to a portfolio when price appreciation is scarce.
Download this article as a PDF