Three charts help explain that last year was the worst year since 2008 for diversified portfolios, but also how the trend is shifting for 2019.
What a difference a quarter can make. At the end of the third quarter, a handful of U.S. stocks were doing better than the rest of the market, and U.S. stocks were easily outperforming both non-U.S. developed and emerging markets. Fixed-income allocations provided little stability for investors, and risk allocation portfolios were doing even worse. In the fourth quarter of 2018, each of these observations reversed. The return of variation in return among asset classes (even in a generally negative environment) is encouraging for multi-asset investors.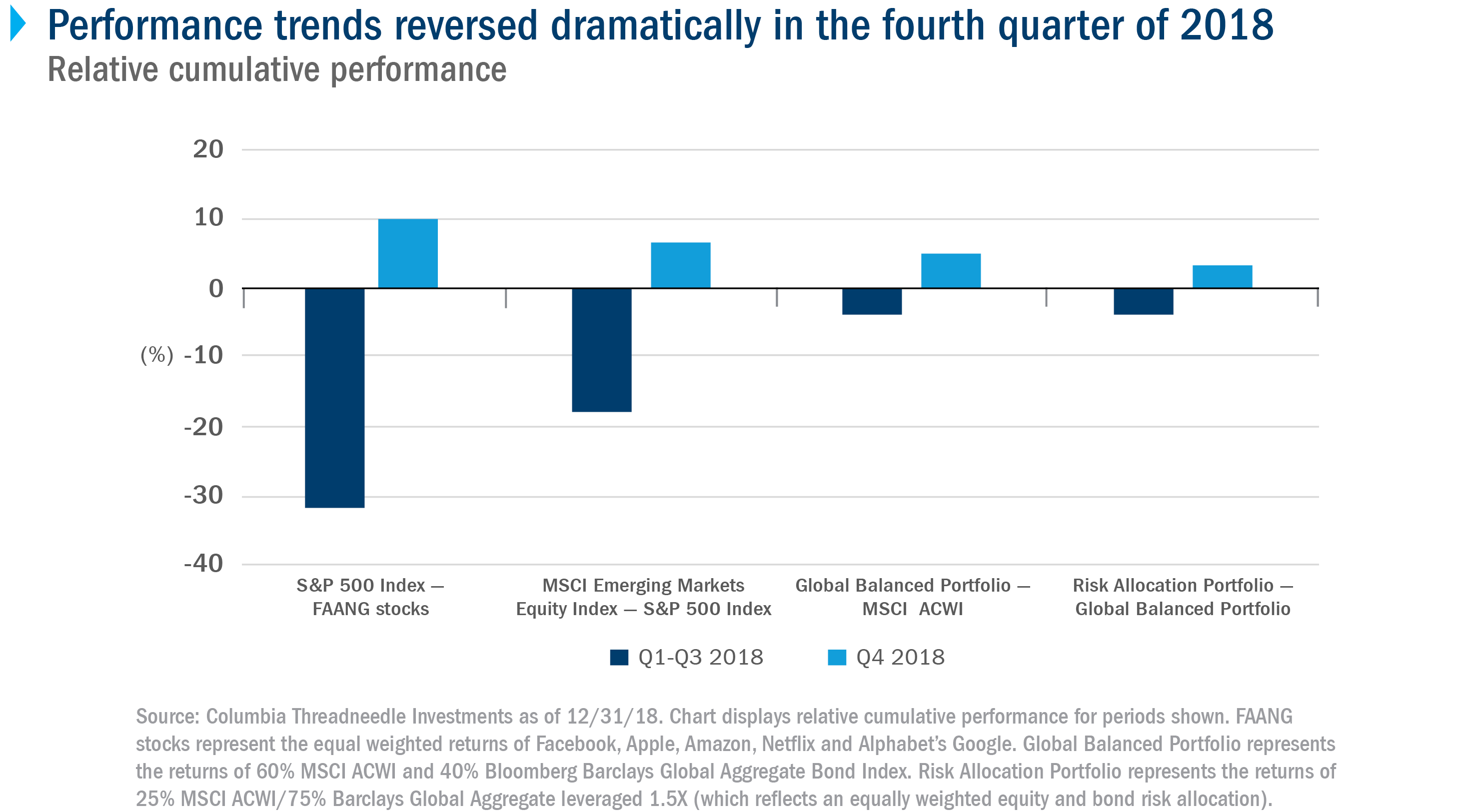 Going into the end of the third quarter, a global, balanced approach (60% equity/40% fixed income) underperformed the MSCI ACWI Index by 3%, and it roared back with a 6% return in the fourth quarter, coming out ahead for the year.
One of the worst years in history for diversification
Considering last year's asset class performance in a historical context, 2018 was the worst year since 2008 for an equally weighted diversified portfolio, and it was only one of four years in which this portfolio was negative.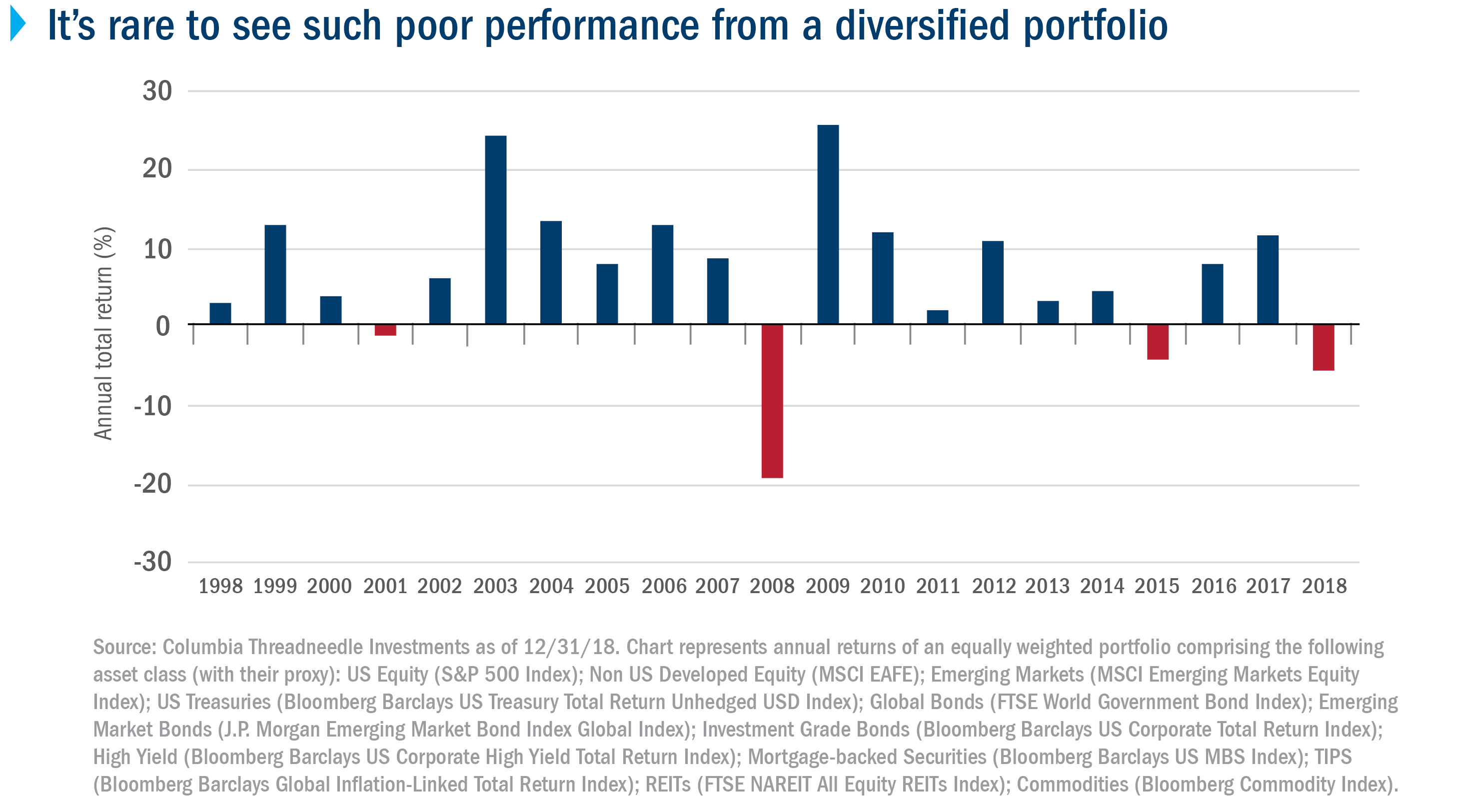 The trend is improving
A diffusion index is a tool to help measure the levels of concentration (or lack of diversification) in the market. It looks at diversification in four areas: stocks, sectors, countries and assets. A score closer to 1 indicates a more diversified market where most of the securities or assets are doing better than the index. A score closer to -1 suggests that a concentrated number of securities or assets are driving market performance. The diffusion index score shot up from -0.5 as of September 30 to -0.1 as of December 31. This demonstrated that returns came from more diversified sources.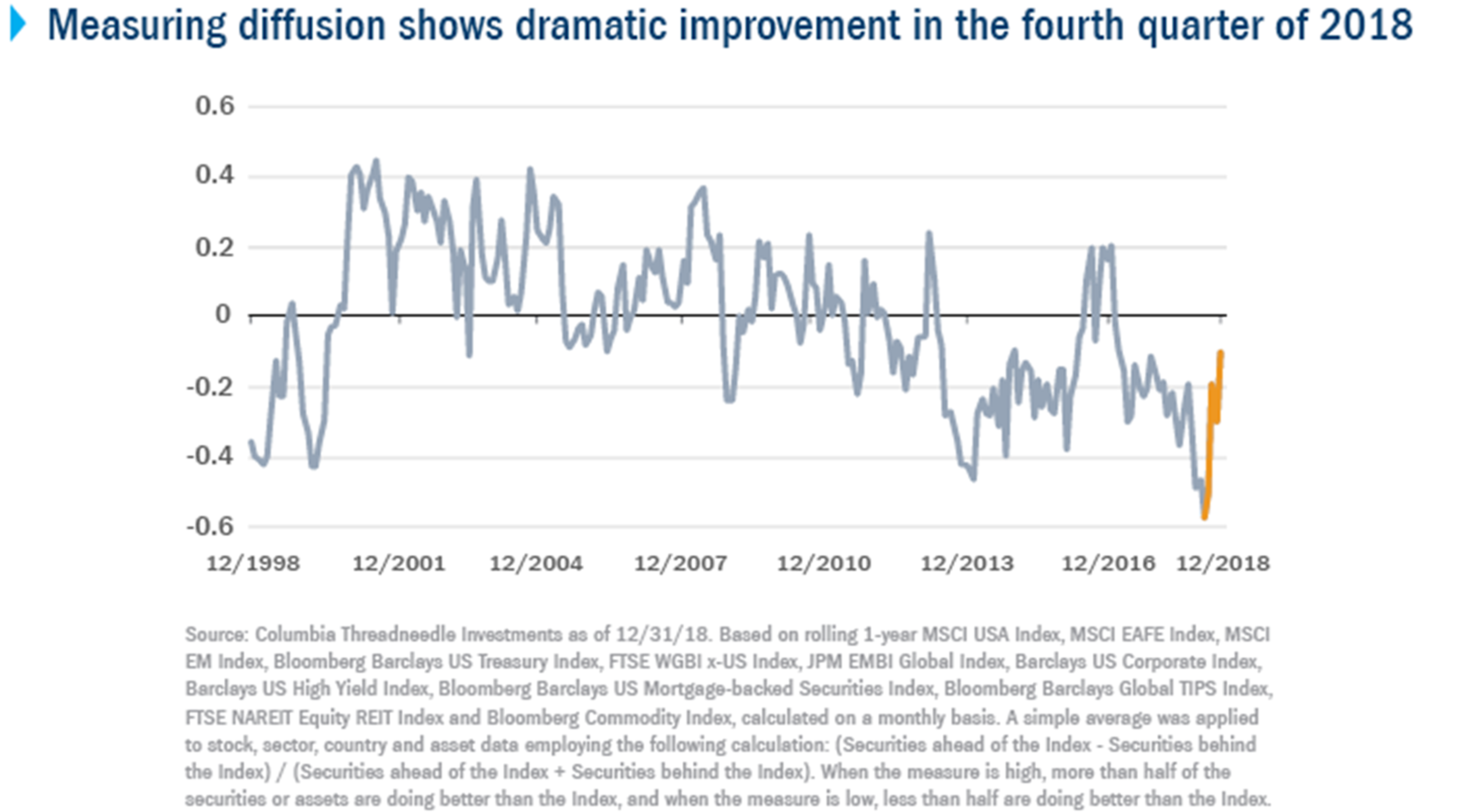 We strongly believe that diversified investors will be rewarded in 2019, just like they've been rewarded after other years of poor performance (e.g., 2002, 2009 and 2016). However, if we consider that 2018 was not as bad as 2008, we also can't expect 2019 to be as strong as 2009.
Volatility is still elevated, and a number of the factors that drove market uncertainty in late 2018 are still at play, including trade discussions, Brexit and U.S. government financial-policy tensions. If recent disappointing earnings calls are portents of the future, then we could continue to see earnings announcements weigh on 2019 equity performance. But we do believe that certain asset classes and geographies are interesting areas for recovery, which is why we think investors should diversify their holdings across as many stocks, sectors, countries and assets as possible.
Bottom line
Diversification didn't work for most of 2018, but it rebounded in the fourth quarter. We expect that trend to continue in 2019.