The latest #chartonthego highlights India's economic growth and reforms.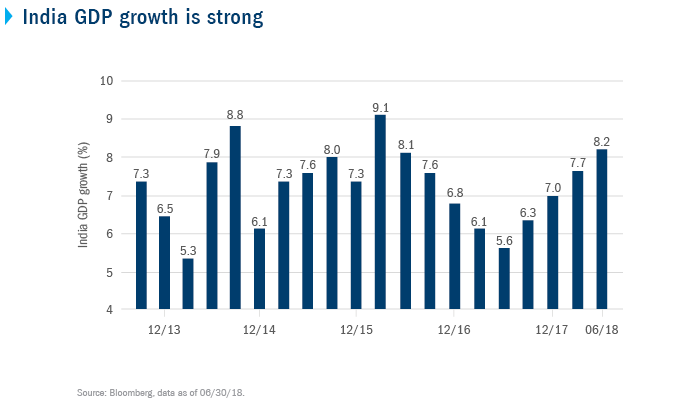 Currently, emerging market performance is being negatively affected by Fed monetary tightening and U.S. tariff threats. Over a longer investment horizon, the growth prospects for emerging markets are strong. India is a leading example with average GDP growth forecasted at 7.9% over the next five years.1
Economic and institutional reforms in India are supporting more rapid growth. These reforms include:

Goods and Services Tax: Improving tax collection and reducing trade barriers between India's states
Insolvency and Bankruptcy Code: Addressing the burden of non-performing loans on the banking system
Aadhaar ID system: Giving Indian citizens easier access to government support benefits through the world's largest and most sophisticated biometric ID system
Download as client-approved PDF
1 International Monetary Fund as of April 2018, representing average GDP growth for 2018–2022.